Plymouth, Massachusetts — KPYM
When Bigger Is Better (Or When The Planes Are Stacked Up Outside, And It's Time To Find A Bigger Hangar)
State of the Art. Efficient. Spotless. Growing.
Everything we think our customers want and deserve.
At 180 by 80 feet, our TWO 14,400 square foot ultra-modern hangars can accommodate multiple large corporate jets. This airport's longest runway measures 4,350 x 75 feet. There are multiple instrument approaches including an ILS that will get you down to 200 feet AGL in 3/4 mile visibility.
Our focus at Plymouth is retrofitting custom avionics suites in larger aircraft, cabin entertainment systems, and RVSM certifications. We're also able to accommodate projects for our paramilitary clients that need their work performed in isolation from other customers, or corporate clients that want the highest levels of privacy. Fly in anytime. If you're driving, come in through Access Gate #6 located just below the south end of the airport at 246 South Meadow Rd., Plymouth, MA 02360. We'd love to collaborate with you on the design of a new NexAir Smart Panel™ upgrade, or incremental upgrades to your current panel that will enhance your flying.
You'll always get prompt, accurate and savvy advice in response to your questions. Our customers fly away knowing not only that their aircraft is "smarter," but that they've gained great practical knowledge about their aircraft's systems. That's why we say, "Smarter Planes. Smarter Pilots."

Lab Spaces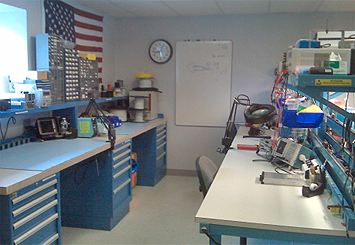 We have state-of-the-art testing facilities on site that reduce turnaround time. And we have the engineering know-how and resources to handle the most challenging installations that might befuddle other shops. In addition to being pilots, our team of engineers and technicians are among the most skilled and experienced in the business.
NexAir Mobile Service Van
When You Can't Come to Us, We'll come to You.
Our state-of-the-art Mobile Service Van allows us to assist aircraft that are grounded due to a lapse in inspection status, or that are not airworthy due to a failed system or component. We have all the gear needed to troubleshoot your avionics.
If you can coordinate with some of your ramp or hangar neighbors, we can also perform on-site testing and certification services for VFR Certification, 14 CFR 91.413 – ATC Transponder Tests and Inspections (minimum of four aircraft at once required, plus travel costs), and IFR Certification, 14 CFR 91.411 – Altimeter System and Altitude Reporting Equipment Tests and Inspections (minimum of two aircraft at once required, plus travel costs).
Start the Conversation
If you've seen something here that sparks your imagination, get the conversation started. Email Dave Fetherston, call him at 877-318-0975, or submit an online Request for Quote or Request Repairs or Maintenance short form. We're ready to collaborate with you so that you, too, can have a smarter plane and be a smarter pilot.