NexAir Helps Pilots Get the Most from GPS
Whatever level of GPS solution you're considering, or whatever avionics manufacturer your prefer, NexAir has worked with thousands of customers to find the ideal solution — from first-time GPS installations to plug-and-play slide-in GPS upgrades. So let's look at some of your GPS options from a conceptual standpoint. Then grab the phone, or send Dave an email, and start an informed conversation with the friendly GPS experts at NexAir.
Never Get Lost Again
GPS is great, especially for pilots. Throughout the history of flight, it's never been easier to know where you are or where you're going. But what about you as an individual pilot; what kind of flying do you enjoy? Are you chasing $100 hamburgers, or are you shooting IFR approaches to minimums with your family onboard? If you're like lots of pilots, you do some of each and everything in between.
Location, Location, Location
For today's pilot, GPS is the primary means of determining your location while in flight. In addition to the basic tasks of showing you where you are where you're going, GPS position information can…
Show your proximity to airspace, terrain, traffic, your course, your destination, etc.
Show your location relative to taxiways, runways, and intersections;
Control an autopilot — even guiding a hands-off landing to IFR minimums;
Assist many traffic warning and collision avoidance systems;
Enable Synthetic Vision displays;
Enable obstacle and terrain warning systems;
Tell ATC and other aircraft where you are and where you're going (ADS-B Out); and
Transmit your location to rescue personnel when using a 406MHz ELT.
So, as you can see from the above diagram, a great deal is riding upon how well your GPS works.
NexAir Delivers the Highest Levels of Reliability for GPS Reception
How well your GPS works is highly dependent upon how well it's installed, including its antenna. A quality antenna installation is the single biggest factor in how well your GPS gear will maintain a trustworthy lock on your position. Many of today's GPS antennas are active, meaning that they consume power and are amplified, and these require specific considerations for location relative to other GPS antennas and other transceiver antennas. WAAS GPS antennas also require special coaxial wiring, necessitating antenna wiring upgrades when supporting WAAS GPS receivers. NexAir will use the best wiring for the job and will optimize the location and spacing of your airframe-mounted GPS antennas for installed avionics and portable devices so as to avoid wing blanking during turns, antenna-to-antenna interference, and other common sources of GPS signal loss. If you're flying a composite airframe like a Cirrus or a Diamond, NexAir can implement a synthetic ground plane to deliver GPS reception performance on par with more traditional aluminum airframes.
How Much GPS Do You Need?
Good / Better / Best
At it's most basic, GPS systems comes in Good, Better, Best configurations.
Good could be an iPad mounted to your yoke running a flight management app. This is very helpful for flight planning on the ground and helpful for situational awareness in flight, especially when used with ADS-B In to display weather and traffic. But apps are prone to crashing due to conflicts with other apps and the operating system. Tablets generally have poor GPS reception, especially in high wing airframes. You may get better GPS reception if you add a separate GPS receiver such as the Bad Elf, or a combination GPS receiver and ADS-B In receiver such as the Garmin GDL 39. Their displays are not sunlight readable, their user interfaces are not very finger friendly, and they have text that's too small when your eyes are not quite what they used to be.
Legal as an electronic flight bag for Part 91 operations, including the display of approach plates with suitable backups in place.
Legal for VFR flights.
Not legal for IFR navigation other than as a non-critical aid to situational awareness.
Recent advances allow your tablet to exchange flight plans with your panel-mounted GPS navigator, so you can work up a flight plan in your easy chair at home, then — during the run-up — wirelessly transfer the flight plan to your panel-mounted GPS for the upcoming flight.
Better could be a dedicated aviation portable GPS such as the Garmin aera® 696 in a panel dock wired to ship's power, an airframe mounted GPS antenna, and an airframe mounted XM weather antenna. Dedicated aviation portables can often be wired to whatever panel-mounted GPS system you're using such as a Garmin GNS 430 so that flight plans in the 430 will cross-fill from the 430 to the 696. Helpful for situational awareness in flight, especially when used with ADS-B In to display weather and traffic. Many times more reliable than an iPad (crashes are almost unheard of because these are single purpose devices without behind the scenes software or app conflicts). Sunlight readable even in an open cockpit. User interfaces and actual knobs that are finger friendly, even in turbulence, and text that's easy to read at any age.
Legal as an electronic flight bag for Part 91 operations, including the display of approach plates with suitable backups in place.
Legal for VFR flights.
Not legal for IFR navigation other than as a non-critical aid to situational awareness.
Best would be an IFR-approved panel-mounted WAAS GPS navigator, such as the Avidyne IFD540 touchscreen FMS/WAAS GPS/Nav/Comm or the Garmin GTN 750 touchscreen WAAS GPS/Nav/Comm/MFD, either of which can be tied to your autopilot to fly fully-coupled, hands-off LPV approaches down to 200 foot minimums. WAAS receivers also update your position at least five times per second, versus once per second for older non-WAAS navigators, yielding smoother course deviation indications on your PFD, HSI or CDI.
These panel-mounted, IFR-approved navigators are safety of life systems, so they're subjected to the highest levels of software integrity checks and are subject to Airworthiness Directives when problems are discovered. Their installation has to be covered by an STC or field approval. They must be operationally flight tested after installation in your aircraft, and they're required to be supplied with an N-number-specific Flight Manual Supplement (documentation) and instructions for continued airworthiness.
Legal as an electronic flight bag for Part 91 operations, including the display of approach plates with suitable backups in place.
Legal for VFR flights.
Legal for IFR navigation, including en route, terminal, and approach phases of flight.
If you're going to fly IFR in today's airspace, you'll want a modern, IFR-approved WAAS GPS touchscreen navigator with the ability to exchange flight plans with an iPad or Android tablet.
WAAS versus Non-WAAS
WAAS stands for Wide Area Augmentation System, which uses two special, geostationary GPS satellites and numerous WAAS ground stations to significantly improve the horizontal — and in particular, the vertical accuracy — of GPS position information. WAAS also significantly improves the ability of your GPS gear to self-monitor for accuracy and to cope with individual GPS satellite outages.
Non-WAAS, IFR-approved navigators are subjected to some key limitations, including the need to file for an IFR alternate that has non-GPS approaches (e.g., ILS, VOR, NDB). When you upgrade to WAAS, these restrictions are removed and you can use your WAAS, IFR-approved GPS navigator as your only means of primary and secondary navigation during domestic IFR flights.
Get WAAS for greater accuracy, higher reliability, and fewer operational restrictions.
WAAS and ADS-B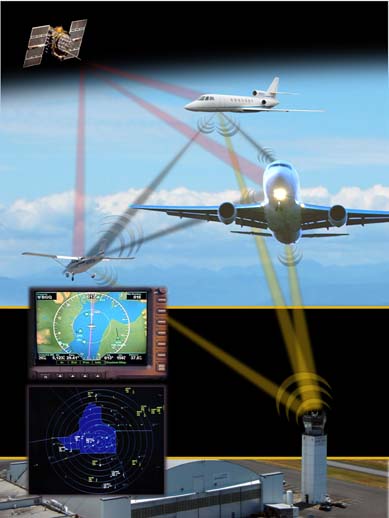 By 2020, ADS-B Out is going to replace radar as the primary surveillance tool for ATC. ADS-B position data is much more accurate and much more timely than anything derived from radar and it also works in areas where radar coverage is poor or nonexistent. With ADS-B, your aircraft will use GPS as its source for position data.
Since the accuracy of your position data is critical to your safety and that of everyone sharing nearby airspace with you, the FAA is mandating that any certificated ADS-B Out solution use only a WAAS GPS receiver as its source of position data. That doesn't mean that you're required to have an IFR-approved WAAS GPS touchscreen navigator, just that somewhere within your ADS-B solution will be a WAAS GPS receiver — perhaps built into your new or upgraded ADS-B capable transponder.
Visit our dedicated ADS-B page for more information on WAAS and ADS-B.
GPS and Your Primary Flight Display
Don't confuse a GPS/Nav/Comm like the Garmin GTN 650 or Avidyne IFD440 with a Primary Flight Display (PFD). PFDs, like the Garmin G500 or G600, Avidyne Entegra PFDs and MFDs, or the Aspen Evolution 2500 Total Glass Cockpit System PFD/MFD, all require that you still have a separate IFR-approved WAAS GPS navigator to determine your position and to navigate amongst the sea of aviation waypoints, airways, airspace, and approaches. All of these PFD/MFD solutions depend upon the IFR-approved WAAS GPS navigator to handle the actual navigational tasks, even if these PDF/MFD solutions provide a touchscreen and/or knob twisting and/or keyboard user interface that can interact with the IFR-approved WAAS GPS navigator.
GPS and Your Integrated Flight Deck
Major avionics suppliers are now starting to supply retrofitable "integrated flight decks" for GA aircraft that combine the complete functionality of an IFR-approved WAAS GPS touchscreen navigator with a VOR/Localizer receiver, Comms radio and a Primary Flight Display and Multi-Function Display (MFD). An example of this would include the Avidyne Entegra Release 9 Integrated Flight Deck. The image below shows NexAir's installation of a complete Avidyne Entegra Release 9 Integrated Flight Deck in a Piper Saratoga, N82DF. Click to enlarge.
Start the Conversation
If you've seen something here that sparks your imagination, get the conversation started. Email Dave Fetherston, call him at 877-318-0975, or submit an online Request for Quote or Request Repairs or Maintenance short form. We're ready to collaborate with you so that you, too, can have a smarter plane and be a smarter pilot.