Your Beechcraft is one of the best airplanes in the sky. You count on its solid feel, comfortable ride, and outstanding control harmonies. But while your airframe and engine are timeless, your avionics may need updating.
Smart Panel™ Upgrade
A NexAir Smart Panel™ upgrade can seamlessly integrate your tablet with a new glass panel, including a primary flight display, flight envelope-protection 4D autopilot, NextGen ADS-B traffic and weather, and synthetic vision to give you a command view of the sky and your flight. Your flying will be easier, safer, more consistent, more enjoyable and, ultimately, more professional — without compromising anything you love about your Beechcraft. It's your Beechcraft, only better.
The Beech Baron 58 shown below, N639AR, is now outfitted with a Garmin G600 with Synthetic Vision, Garmin GDL69 XM Weather, Garmin GMA35 Remote Audio Panel, Garmin GTN750 WAAS GPS/NAV/COM – Touchscreen, Garmin GTN650 WAAS GPS/NAV/COM – Touchscreen, WX500 Stormscope, Skywatch HP Active Traffic Watch System, KFC225 Autopilot with Yaw Damper, RDR2000 Vertical Profile Color Weather Radar, JPI EDM760 TSO'd Engine Analyzer, KGP 560 EPGWS Terrain Awareness and Warning System, Electric Standby Attitude Indicator, iPad® wireless interface, and ADS-B In/Out.
Below is the AFTER view of F33 Bonanza, N82903, now outfitted by NexAir with a new G500, GTN750, JPI TSO'd EDM 930 Engine Monitor, iPad® wireless interface, and ADS-B In/Out.
Below is the BEFORE view of the BE33 Bonanza, N82903.
Autopilots
We can integrate state-of-the-art autopilots from any of the leading manufacturers to ease your workload during all phases of flight. Today's best autopilots offer Flight Envelope Protection which limits the risk of an inadvertent stall or over speed event. Some also feature a Straight & Level button should you ever experience spatial disorientation. Today's best autopilots are attitude based, so they're very smooth on the flight controls, which any Bonanza driver will appreciate. No more hunting or porpoising on final and no more overshoots during intercepts. Altitude management makes it easy to hit your IFR target crossing altitudes up or down, and to manage climbs and descents with optimized engine cooling. Flight Director modes will still let you hand fly your Beechcraft with command bar guidance, so you gain the precision and of an autopilot with the enjoyment of hand flying.
ADS-B — Get It Right, Get It Done, and Do It with NexAir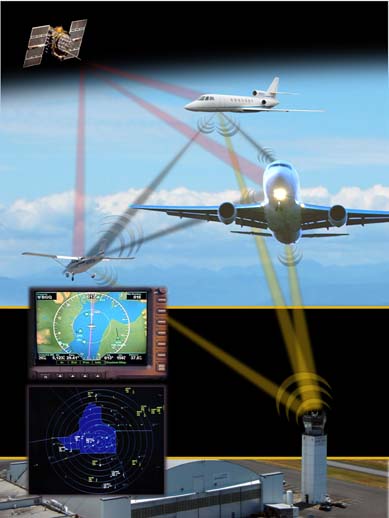 NexGen automatic dependent surveillance-broadcast, or ADS-B, enables behind the scenes automated communications between your Beechcraft and ATC, as well as between your Beechcraft and other aircraft.
ADS-B Out — Broadcasting Your Position and Motion
Using a WAAS-approved GPS position source, your Beechcraft continuously broadcasts its current position, altitude, and motion to all ADS-B listeners or requesters. This gives ATC and the aircraft around you the traffic data they need to know where you are, and where you're going so that ATC can direct you, and other pilots can avoid you. NexAir can design the perfect ADS-B Out solution for your Beechcraft, with ideal GPS and ADS-B antenna placements that maximize your traffic visibility to ATC and other aircraft.
ADS-B In — See the Traffic Around You
Once you have a proper ADS-B Out solution, you can receive customized traffic data sent specifically to your Beechcraft. The FAA's ATC system actually creates a data packet just for you, and only you, that shows you all known traffic, detected via ADS-B or ground radar, within a 15 nm radius and 3,500 ft +/- your altitude. Your personalized traffic data can be displayed on your tablet, aviation portable, and/or your panel mounted displays.
ADS-B In — Access Nationwide Weather, NOTAMs and TFRs for Free
Once airborne, anyone with an ADS-B In receiver, portable or panel mounted, can receive free weather data uplinked from FAA sources. The weather data is then displayed on your tablet, aviation portable, and/or your panel mounted displays. NexAir will optimize your ADS-B receiver antenna placement so as to maximize reception ranges and reliability.
Start the Conversation
If you've seen something here that sparks your imagination, get the conversation started. Email Dave Fetherston, call him at 877-318-0975, or submit an online Request for Quote or Request Repairs or Maintenance short form. We're ready to collaborate with you so that you, too, can have a smarter plane and be a smarter pilot.